4 Artists from all over the world will be making their debut in NL
& what better way to do so at RETOX while we breakmorecore?
buy your tickets now
, order them for only € 8,- via
https://worm.stager.nl/web/tickets/59338

---
SUBMERGED (USA)

SICKBOY (BE)
GORESHIT (UK)
ZEUGE (RU)
RUDI RATTE (IT)
APZOLUT (NL)

MEOW MEOW & JEFFLOCKS (NL)
BELIEVE (UK)
141 (NL)


---

as you can see,  2 artists of the original line-up couldnt make it.
but we were more than happy that Sickboy & Meow Meow ft Jefflocks were able to tear the place down!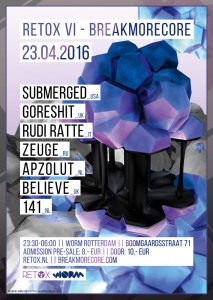 >> PROMOMIXES BY ZEUGE, GORESHIT, BELIEVE AND RUDI RATTE.