END.USER
DURAN DURAN DURAN
NEEDLE SHARING
DETRITUS
SUBHEIM
141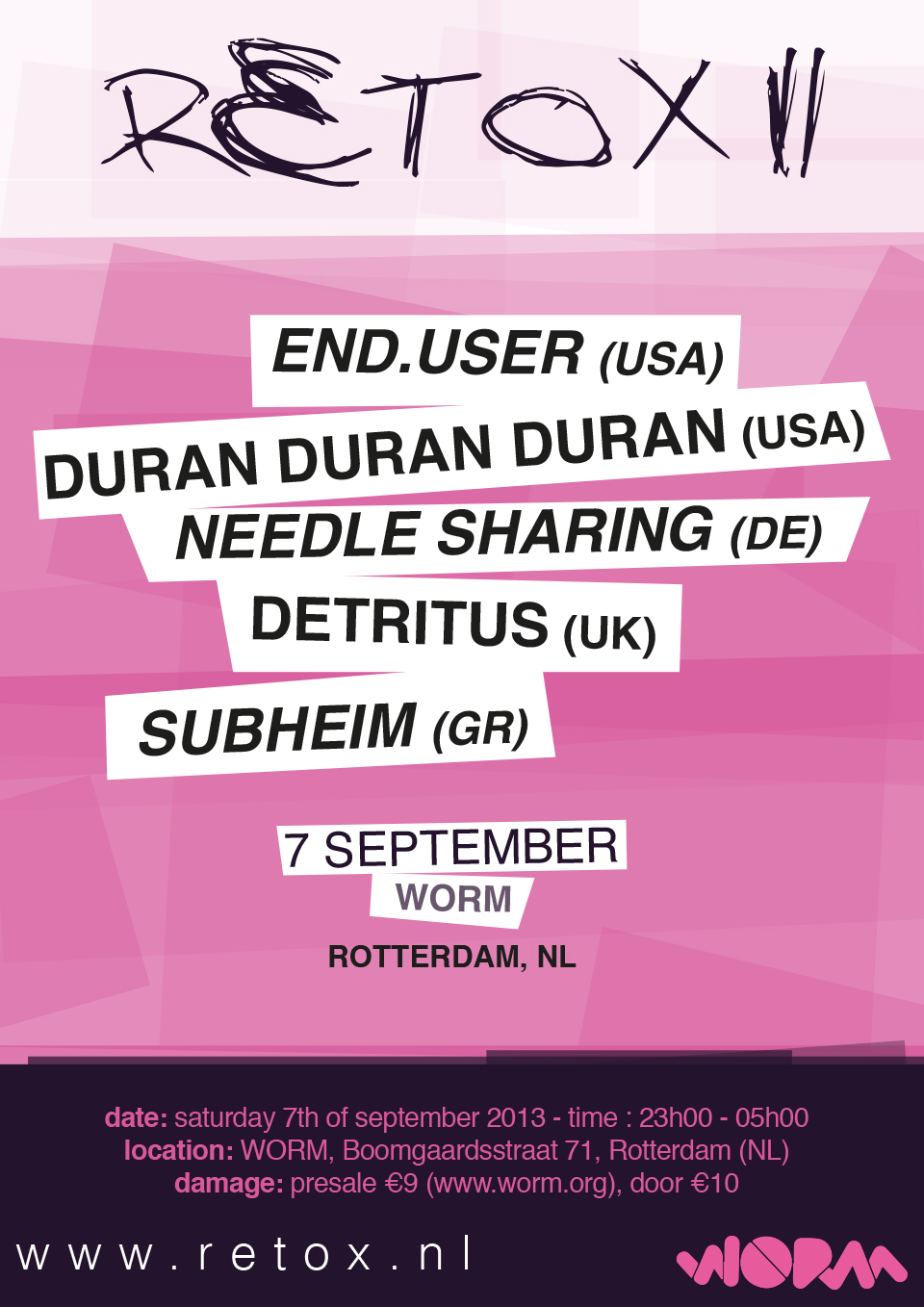 AFTERMOVIE RETOX II
END.USER 
(USA)
Lynn Standafer is a pioneer of electronic music. RETOX is proud to announce him on the line-up and releasing him on the first RETOX record (RTX001).
As always, end.user promises a great performance with his own distinctive style of hard hitting breakcore beats, aggressive bass lines and lush melodies.
He's been overseas for a while but will puncture your eardrums in Rotterdam on the 7th of September.
DURAN DURAN DURAN 
(USA)
This might attract MILFS coming for the eighties band (which isn't a problem…) or you know who he is, one of the originators in the breakcore scene and doesn't need any introduction at all.
We're glad, Ed Flis plays at RETOX as we like his partycore sound with a twist that represents a good time, any time, for everyone.
Guaranteed to bring a big smile on your face, tired legs from dancing, a musical high and whatnot. PARTY!
NEEDLE SHARING 
(DE)
Needle Sharing began with raping ears in the 90's and is still going strong.
Famous for their collaboration with Panacea in 2002 they came back with a bang (actually, their "Gang Bangs" album in 2011) and shortly followed with a new collaboration together with The Teknoist (which performed at RETOX in december 2012) and End.user.
Be prepared for a set filled with raw heavy loud industrial sound heavily influenced with drum and bass!
DETRITUS 
(UK)
A long standing name in the electronic music scene, and yet still in a league of it's own, Dave Dando-Moore has his own unique style, which he built upon in many years of performing live and releasing many albums.
He is a master in taking you on a melancholic journey full of emotions, bass and drums which sounds like a soundtrack to a movie never made, where you are always the main character.
This edition of RETOX sees Detritus returning to a live setting after a lengthy absence from the gig circuit.
SUBHEIM 
(GR)
Kostas, originally from Greece has released albums on Tympanik, Ad Noiseam and Denovali will kick of this edition of RETOX with bitcrushed downtempo ambient & IDM beats.
As one quoted "it scares the shit out of me. it sounds as if ravers from the 90s who died violently, came back from the dead as zombies, listened to faithless and started playing music."