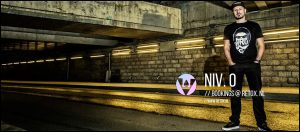 Having taken his first steps in music as the bass player for various hardcore outfits, Frederic Garcia has now become one of the frontrunners of France's heavy electronic scene. With tastes and influences ranging from dubstep, hip-hop to metal, he's a relentless actor of this country's underground scene.
Following his winning of the "best electronic newcomer" award at the Printemps De Bourges festival in 2008, Niveau Zero had his first releases on the Paris-based label Destpub (also the first label to discover the now widely acclaimed 16 Bit).
He has ever since had records put out by such imprints asRottun, DOOM Music, Ad Noiseam, H.E.N.C.H Buygore, Chateau Bruyant, Never say die, Boka rec and Peace Off.
Niveau Zero's first full length album, "In_Sect" was the coming of age for this project. Marrying his heavy dubstep with rap MCs and metal riffs, collaborating with Broken Note, Hecq and Ben Sharpa, this musician took to the road to promote this CD, with very remarked show all over North America and Europe.
Once again, the sheer energy, talent and experience communicated through Niveau Zero's concerts played a vital role to spread the word about this party-compatible, angry and heavy bass music, as well as to link metal (in both energy and sound) and bass music.
Since the release of his first album, Niveau Zero has acquired the status of most sought-after French dubstep producer, playing RETOX in the Netherlands to Ad Noiseam in Germany, Russia to the US, Lebanon to Mexico. Festivals such as Fusion festival, Maschinenfest, Norberg Fest, Technoparade…
Playlisted on BBC1 and Rinse Fm radio. Mixed & support by artist like Skism, Dirtyphonics, Excision, Figure, Skream, Benga, Borgore, Von D, Jakes, dj Chef, Son Of Kick, Brown & Gammon, Habstrakt.
One of his last releases on Buygore, his collab with Figure on Never Say Die & his next Ep on Uplink rec – Niveau Zero is the one you should book!
Speak soon.
Tunes:
> > niveau zero – 2nd chance
> > figure & niveau zero – escape
______________________________________________________________________